Frequently Asked Questions
Why is it so important to build more rail lines?
Passenger rail is a proven catalyst for economic growth and job creation. The growing demand for living and working space in walkable downtowns is driving the pattern of private-sector investment in metropolitan areas today. Rail transit responds to this demand because it doesn't disrupt city streets as highways do. Trains move people at far lower cost than driving, and don't congest the roads or pollute the air.  
Buses are a vital part of Maryland's transit system, but they cannot replace trains as the backbone of the system. A single train carries as many passengers as a fleet of buses, bringing less operating cost, less pollution, and less disruption of downtown streets. The smoother ride and better public image of rail transit attracts more riders than buses.
Trains run easily in tunnels, a necessity for rapid travel through major cities like Baltimore.  Elsewhere, we can take advantage of rail infrastructure we have inherited. MARC's rail corridors already connect to smaller downtowns like Rockville, Gaithersburg, Frederick and Laurel.   Similarly, the Southern Maryland Light Rail will pass through Waldorf on an adjacent rail right-of-way.
Where does the cost estimate of over $8 billion for the I-270 & American Legion Bridge widening project come from?
Transportation Secretary Pete Rahn gave this estimate to the Washington Post [July 30, 2016]. 
Won't the new lanes proposed for I-270 be paid for by tolls?
No. Tolls can't pay for the high cost of new highway lanes. Even if the new Intercounty Connector meets its traffic projections – far from a sure thing – only one-third of the cost will be covered by tolls on that road. The rest will come from taxpayers and from tolls collected elsewhere in Maryland.
The numbers are even worse for toll lanes on existing highways, because almost no one will pay a toll when the free lanes next to them aren't backed up. A pair of express lanes that fill up for 5 hours on work days will carry around 20,000 cars each day, or 5 million trips a year.
The I-270 widening north of Shady Grove, just a part of the $8 billion plan, would cost at least $4 billion to build. The payments on a 30-year $4 billion loan at 2½% interest are $190 million a year. The one-way toll from Frederick to Shady Grove would need to be $38 to pay this off. Few drivers will pay such high tolls.
Experience elsewhere confirms that tolls cannot pay for express toll lanes. The Virginia Beltway express toll lanes have only recently taken in enough toll revenue to cover operating expenses, let alone start paying off the interest and principal on the cost of building them. Toll road projects are falling short of revenue projections all over the country, and there have already been bankruptcies in Indiana and Texas.
With Maryland gas tax revenues declining, where's the money going to come from to implement your plan?
Over the years, Marylanders of all political points of view have joined together to fund infrastructure. In 2003, Governor Ehrlich and the legislature joined to fund the $2 billion Intercounty Connector. In 2013, Governor O'Malley and the legislature enacted a gasoline tax package to fund the Purple Line, the Red Line, and needed road maintenance. There is no reason to think that this transformative transit package could not be paid for over the next 10 to 15 years with the help of federal aid.
What makes you think the Congress is going to appropriate enough money to start a big new transit infrastructure program?
There is a broad consensus across the political spectrum, including last year's candidates for national office, that the United States must spend more on infrastructure--including mass transit and passenger rail infrastructure--if we are to build a strong economy at home and compete internationally. We don't know when the political logjam on Capitol Hill will break, but when it does Maryland must be prepared to use federal funding to build new transit infrastructure that will grow our economy and protect our environment.
Will Maryland highways become intolerably crowded if we don't widen them?
Very unlikely. Traffic has stopped growing, nationally and in Maryland, over the past decade. I-270 traffic (measured just south of Montrose Road) is an example: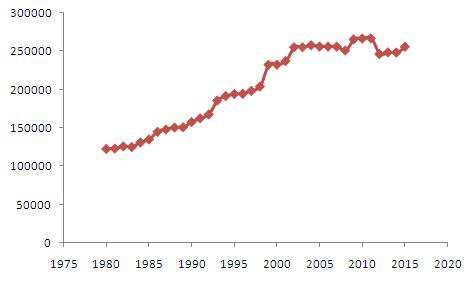 Isn't fixing the existing Metro system the highest transit priority for the metropolitan Washington region?
Metro must be fixed, but that isn't enough. Our goal is a multi-modal, comprehensive and coordinated transportation network that provides safe and efficient rapid transit service to connect communities across Maryland's metropolitan areas. We cannot stand still if we want to build a competitive world-class economy with prosperous, thriving, and livable communities--in Maryland.