MTOC Calls for Withdrawal of Toll Lane SDEIS
Due to Blatant Errors in Traffic Forecast
Press Release
, October 1, 2021
Blatant errors in the toll lane environmental report released today by the Maryland Dept. of Transportation and Federal Highway Administration require withdrawal of the document to correct the faulty analysis, the Maryland Transit Opportunities Coalition said today.
"This scheme will make traffic jams even worse on the Beltway between I-95 and Bethesda, and erroneous numbers spit out of a computer can't hide that," said MTOC chair Ben Ross.
The study makes the nonsensical forecast that widening I-270 will reduce the number of cars taking that highway to Bethesda. The predicted number of vehicles taking the ramp from I-270 to Wisconsin Avenue between 6 am and 10 am is predicted to be 5,165 if I-270 is not widened and 5,080 if it is widened from 6 to 7 lanes.
Equally implausibly, the study predicts that adding two toll lanes to the Beltway between the American Legion Bridge and Old Georgetown Road along with a new toll lane on I-270 will mean fewer cars on the road where the two highways merge east of Wisconsin Avenue. The report says that widening the two highways will cause eastbound traffic on the Beltway between the I-270-Beltway merge and Connecticut Avenue during the evening rush hour (3:00 to 7:00) to drop from 33,690 to 33,290.
"The Beltway merge with I-270 at Wisconsin Avenue is already one of the worst traffic bottlenecks in the region," said Ross. "It's obvious that widening both of the highways that feed into the merge means that there will be more cars there. A computer model that says the opposite is fundamentally flawed."
"Increased traffic congestion at that merge point is the biggest impact of the new Preferred Alternative compared to the build alternatives analyzed in the DEIS," Ross added. "These blatant errors make it impossible to compare alternatives. FHWA and MDOT must withdraw the SDEIS and reissue it with a corrected traffic analysis."
Shown below are screenshots from the SDEIS traffic modeling appendix, showing traffic volumes on the highways and ramps at the 270-Beltway-Wisconsin interchange.
---
The four rows in each little table are the number of cars on each roadway or ramp from 6 am to 7am, 7 to 8, 8 to 9, and 9 to 10 for morning, and 3 to 4, 4 to 5, 5 to 6, and 6 to 7 for evening.
Morning, no-build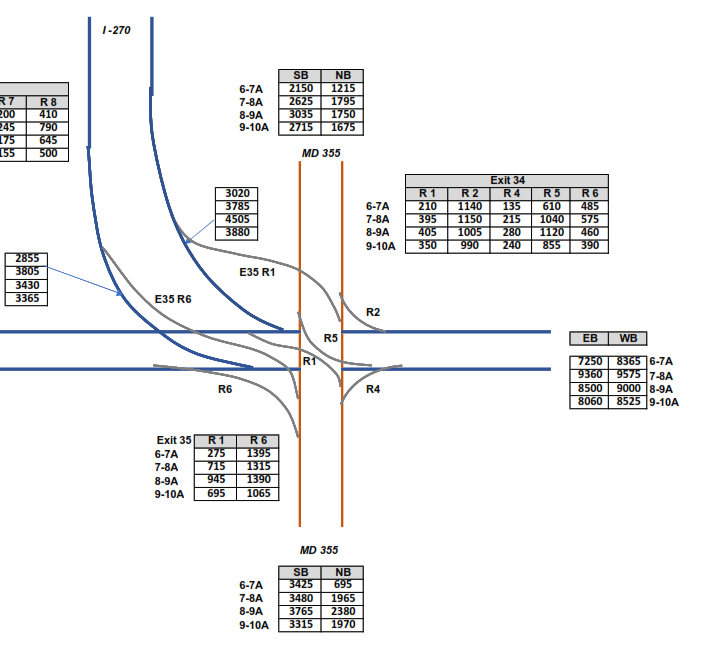 Morning, preferred alternative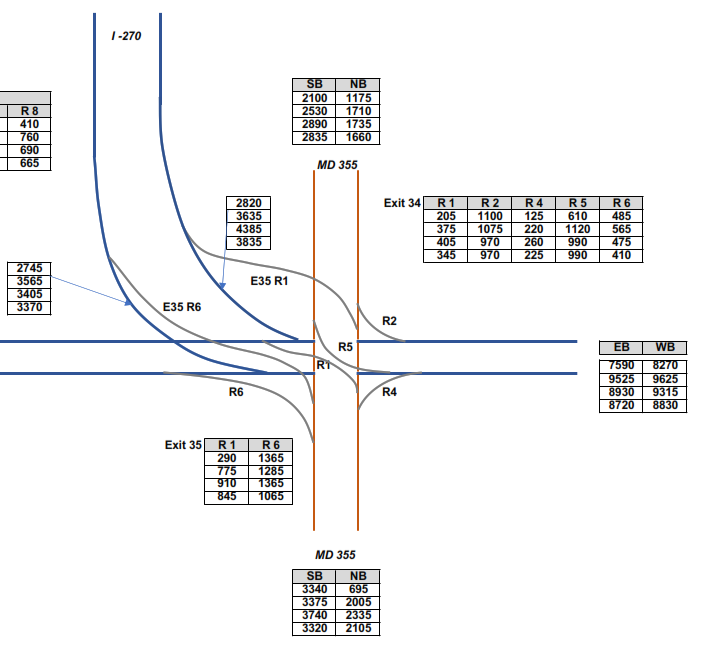 Evening rush hour, no-build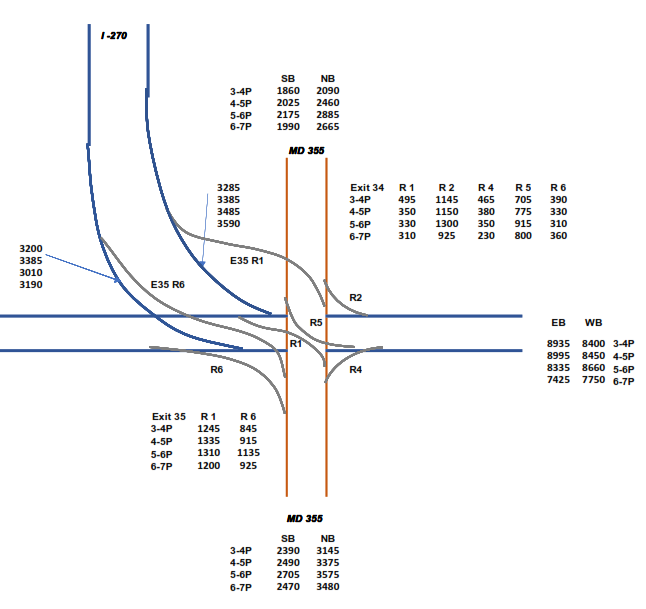 Evening rush hour, preferred alternative