Secret Deal Guarantees Sky-High Tolls
On American Legion Bridge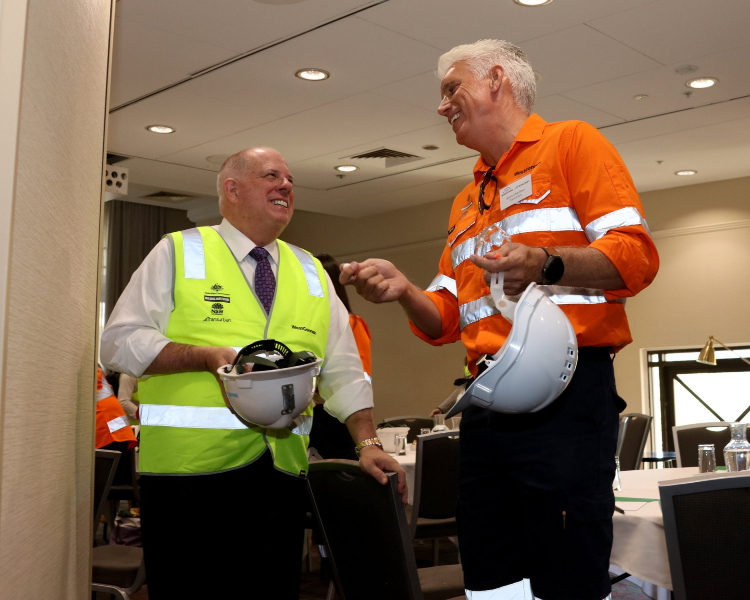 Governor Hogan and Transurban CEO Scott Charlton during the Governor's September 2019 trip to Australia.
(Photo by Steve Kwak from Governor's website.)
The Maryland Dept. of Transportation has secretly guaranteed high tolls to Transurban, the Australian company that wants to add toll lanes to the American Legion Bridge. The existence of a letter that makes this commitment -- but not the letter's text -- is revealed in the Request for Proposals for the first phase of the toll lanes, which was issued on December 18 and made public late on December 23.
Maryland law says that tolls cannot exceed a cap, which must be set by a public vote of the Maryland Transportation Authority after public hearings. The hearings and MDTA vote will not occur until next summer. But, if the state goes ahead with its plan to sign an initial toll lane contract in May, the RFP says that it will owe Transurban millions of dollars if the MDTA doesn't rubber-stamp the toll cap promised to Transurban in MDOT's secret letter.
The RFP confirms that, as critics have long said, Transurban is the only possible winner of the toll lane contract. Technical proposals had to be submitted by December 23. "How could anyone write a billion-dollar proposal between Friday afternoon and Wednesday morning, unless the deal was sealed in advance?" asked Ben Ross, chair of the Maryland Transit Opportunities Coalition. "This makes a mockery of what is supposed to be competitive bidding."
Ross added that under the agreement announced by Governors Hogan and Northam a year ago in November 2019, Virginia's contractor will build the northbound toll lanes and Maryland's willl build the southbound lanes. Yet the proposed contract doesn't say how the two contractors will be coordinated or how disputes between them will be resolved. "This can't possibly work unless both states select the same contractor," he said. "Since Virginia has already picked Transurban, the so-called competition for this contract has only one possible outcome."
The RFP also violates requirements set by the state Board of Public Works. The first section built will consist only of the American Legion Bridge and nearby sections of the Beltway, rather than go up I-270 to Shady Grove. Assurances of transit funding have been watered down to a maybe. The contract will be signed before environmental studies are finished and the federal government issues its Record of Decision.
Contrary to the governor's repeated promises, the first toll lane section will be subsidized by taxpayers. The RFP states that Transurban will not reimburse MDOT for stormwater mitigation credits the State has paid for. And under its terms, Transurban will be able to demand further expenditures by the government in a more detailed contract that must be negotiated before construction starts. "This project will serve only the wealthiest people in the wealthiest part of the state at the highest possible cost that hasn't been revealed to the taxpayer," said Samuel Jordan, chair of the Baltimore Transit Equity Coalition. "Can the people of Baltimore who face drastic reductions in core bus service be expected to pay for this?"
"It looks like the State is launching a winter offensive under cover of darkness over the Christmas holidays to rescue this fatally-flawed scheme," said MTOC vice-chair Gary Hodge, "pushing to get the project past the point of no return with no oversight, accountability, or response to the 3,000 citizens, elected officials and public agencies who commented on the Draft Environmental Impact Statement."